INSPQ model proposal
As part of a scientific review on effective interventions in mental health promotion and mental disorder prevention, the INSPQ (2008) proposes a conceptual model for assessing the relevance of measures that can be implemented to promote health and prevent mental disorders.
 This model is based on Albee and Finn's (1993) prevention model as well as the model proposed by MacDonald and O'Hara (1998), which includes promotional elements. In addition, the model integrates five intervention strategies recommended by the Ottawa Charter (1986).
The model includes several factors recognized as determinants of mental health. They are divided into ten categories. The model stresses the importance of increasing the influence of protective factors and reducing risk factors, while recognizing that characteristics of the individual, the immediate environment and society affect mental health. Its objective is to encompass the general population as well as people suffering from a mental disorder.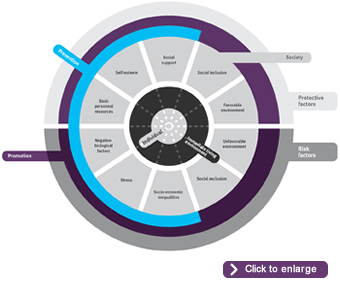 Conceptual model of mental health promotion and mental disorder prevention
In practical terms, the model allows us to understand the relevance of all promotion or prevention measures targeting mental health. For example, routine screening for perinatal depression combined with an intervention to support mother-child interactions, serves a population of pregnant women and mothers of young children. This measure targets protective factors related to social support, in addition to risk factors related to negative organic factors and stress. The corresponding intervention strategies from the Charter are those aimed at developing personal skills and health services.
Other interventions, such as those aimed at supporting community development, target a wider population of youth and adults. They act on risk and protective factors from all categories, except negative organic factors, while drawing on the Charter's five strategy types.
The INSPQ's review features 24 different measures. This list is not exhaustive, however, the model can be applied to any other intervention targeting mental health promotion and mental disorder prevention.
In light of this reading, how could such a model be used to identify as well as plan promotional and preventive interventions?